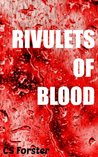 Rivulets of Blood by C.S. Forster
My rating: 4 of 5 stars
'Rivulets of blood' opens cleverly with a prologue of two alarming articles of a crime yet to be solved, followed by a vivid portrayal of the crime, then another two articles of the arrest and conviction of a tall guy called Chase Cotter. This sets the scene nicely for the beginning of the book which takes you to the small town of Oregon, population about 500 people, when you hear of the killer, 'Cotter,' escaping during transport to the prison. Rain is pouring down; the local Sheriff is alerted of the escape, makes his warning calls, but 'The Millers' are not answering. The deputy is interrupted from getting laid, rushes over to the house, finds a dead Mrs. Miller on the floor and then is killed by a couple of blows to the head by Cotter!
Fast-paced action right from the get-go keeps you reading on; new characters are introduced as the Sheriff and company try to track down Cotter. Cotter carries on his killing spree until he is eventually met by resistance. Read the story to find out 'what happens next'
The author succeeds in grabbing its reader all the way though this story, but regretfully, it's a little on the short side. I did enjoy it though and very much look forward to reading the next book.
View all my reviews" title="My reviews ">